We are honored and extremely grateful to receive the prestigious Red Dot Design Award 2023!
This honor was granted to one of the latest editions of our Bokashi Organko fleet of products - Organko Daily.
We must admit that it feels great that the Red Dot Design Award committee recognized the uniqueness and value of this fantastic product.
Our team of designers deserves this recognition. And this surely motivates them and our entire team to continue coming up with sustainable and practical solutions to help people worldwide handle kitchen waste properly.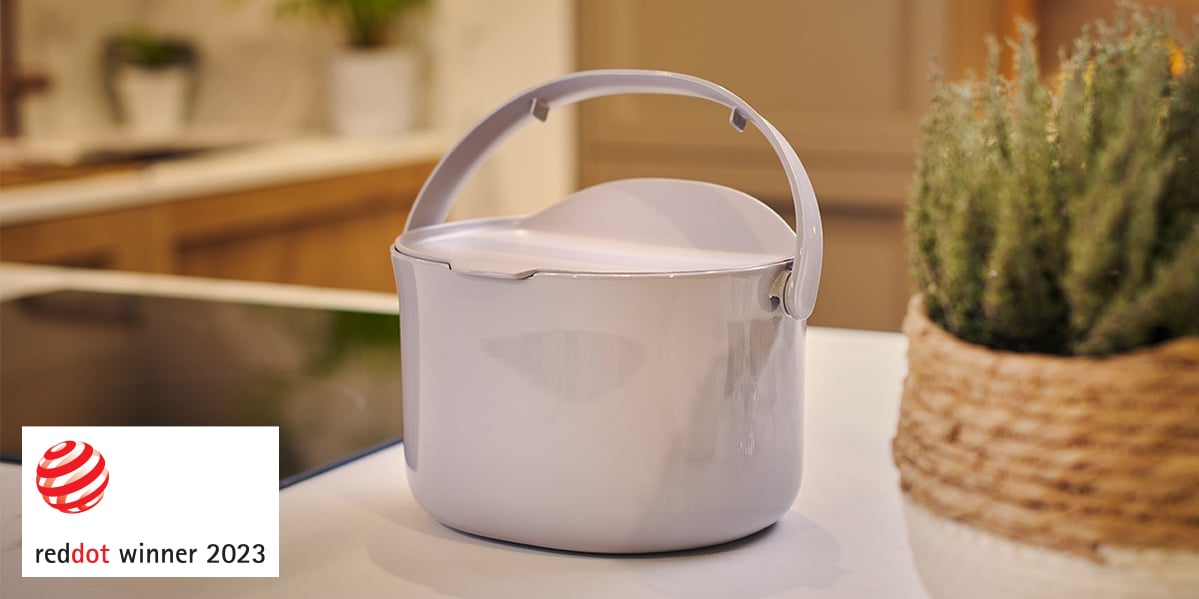 What is the Red Dot Design Award?
The Red Dot Design Award is a globally recognized design competition that honors outstanding design quality and innovation. It is considered one of the most prestigious design awards in the world. The most competent expert juries select excellent designs in product design, communication design, and design concepts every year.
This award is so valued that the "Red Dot" distinction has become one of the most sought-after seals of quality for good design worldwide.
That said, winning this award is a testament to our product's exceptional design and functionality. So, we want to share our excitement about being a Red Dot Design Award recipient with you.
And, in case you don't know Organko Daily yet, make sure to dive into the following section!

Meet Organko Daily - our in-house Red Dot Design Award 2023 winner
For years now, we've been manufacturing top-notch indoor bokashi composting bins. These sustainable and highly durable bokashi composters already help thousands of households to collect and process organic waste at the source appropriately.
However, in communicating with Bokashi Organko users, we also noticed that the average household lacks a practical bin for daily organic waste collection. A container that is always there when you need it. A bin that is large enough to handle the daily dose of organic waste yet still small enough to be easily managed with a single hand.
Luckily, a team of extraordinary designers could envision such a bin. And not only did they include all of the features mentioned above, but they took things to a whole new level. A level that won Organko Daily the Red Dot Design Award!

So, what exactly is so special about Organko Daily? In short, it perfectly combines sustainability, practicality, and sleek looks into the best-ever countertop kitchen waste bin!
Organko Daily Close Up
Organko Daily has a capacity of 3.3 liters, dimensions of 24 x 20.5 x 17 cm, and weighs 300 grams. On the one hand, this makes it large enough to handle your daily batch of organic waste easily. On the other hand, this still makes Organko Daily small enough not to occupy too much of your kitchen countertop surface. Plus, the compact size and light weight make it easy to move the bin around
Organko Daily is all about sustainability! For one, it is produced from post-consumer recycled plastics (recycled polypropylene). Secondly, the bin is all about helping its users properly handle organic waste. Nonetheless, Organko Daily users ideally combine their power with one of the Bokashi Organko composters to convert their kitchen waste into new resources at the source.
This sustainable kitchen waste bin also has a lid that you can easily open with the same hand you use to lift the bin. This single-hand handling makes collecting kitchen waste extremely efficient. Of course, the lid can also stay open, so you don't have to open it when peeling your favorite fruits and veggies. Plus, removing the lid takes just a second if you decide to do so.
Of course, you'll want to remove the lid to clean the bin properly. And you don't have to do that by hand. After all, Organko Daily is dishwasher-safe (up to 55°C).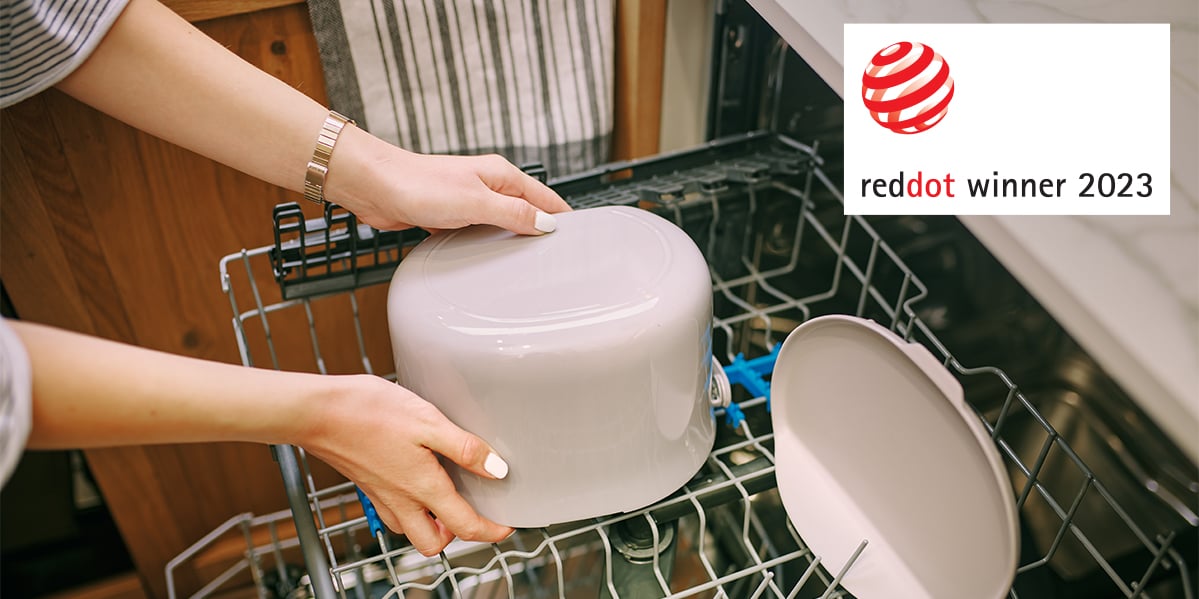 When using Organko Daily, you don't need to (and should not because it's not sustainable) use any waste bags. Simply collect any organic waste directly into the bin. Thanks to its large opening on the top, you can easily manage even extra-large chunks.
If you are not using Organko Daily, implement this bag-free solution today!
Moving Forth On the Wing of the Red Dot Design Award
While we are incredibly proud and grateful to receive the Red Dot Design Award, and our designers deserve to be praised for their work, it's important to note that we don't do it for the awards. Sure, it's a great honor to receive the Red Dot Design Award; however, we have been and will continue bringing our A-game daily to help create user-friendly and nature-friendly products.
Our vision and goals are clear. We are committed to helping make this planet more sustainable by producing products that help you collect kitchen waste in an environmentally-friendly manner. And we can achieve this ambitious goal only with your help - we need you to use our products to make an impact! So, we are in this together.
With that said, we'd love to hear from you. What do you think of Organko Daily? Does it make your life simpler? Would you give our bin the Red Dot Design Award if you were on the committee jury? Thank you for your feedback and for using our products!