Garden composter
Bokashi Organko 1, 16 L
The Bokashi Organko 1 composter is a sustainable solution for self-sufficient ecological gardening. You will get a first-class compost base for the garden and bokashi liquid for watering plants. Useful microorganisms contained in the bokashi bran trigger fermentation, thus conserving almost all minerals and mineral substances. Bokashi Organko 1 is made from recycled plastics (recycled polypropylene).
Models & colors:








Why choose Bokashi Organko 1?
reduction of organic waste by 25%
first-class compost base
quality organic plant fertilizer
natural cleaner for drains
no unpleasant odor and flies
Parts
| | | |
| --- | --- | --- |
| Parts | Bokashi Organko 1 | Bokashi Organko 1 Set |
| handle | 1x | 2x |
| lid | 1x | 2x |
| container | 1x | 2x |
| tap | 1x | 2x |
| draining sieve | 1x | 2x |
| dosage container | 1x | 1x |
| presser | 1x | 1x |
| drainer cup | 1x | 1x |
Packaging
Bokashi Organko 1

1x composter
1x user manual
1x bokashi bran*

Bokashi Organko 1 Set

2x composter
1x user manual
1x bokashi bran*
*optionally available
Technical specifications
| | | |
| --- | --- | --- |
| | Bokashi Organko 1 | Bokashi Organko 1 Set |
| Volume (L) | 16 | 2x 16 |
| Weight (g) | 1940 | 3300 |
| Dimensions (L x W x H) in cm | 32 x 26 x 38 | 2x 32 x 26 x 38 |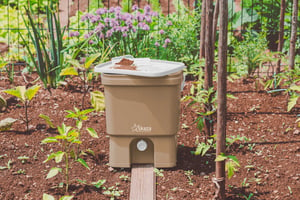 Delicious crops and high-quality soil
In Bokashi Organko composter, organic waste ferments with the help of the bran with effective microorganisms. Since fermented mass preserves almost all nutrients and minerals, the compost will be better, the soil more quality, and the crops more delicious.
Tip to use
If you are a passionate gardener, get a set of two Bokashi Organko composters. This way, you can fill one with the daily organic waste, but in the meantime, you can leave the full composter sealed for 14 days for the food waste to ferment completely.
A sustainable solution for self-sufficient and ecological gardening
Composted organic waste from households is collected less regularly, while the volume of organic waste reduces by 25% due to fermentation. Food waste can become a food resource since the fermented mass can be buried in the soil. There, it decomposes in 1-2 months and feeds the soil with nutrients. Welcome to the new era of tasty and healthy crops.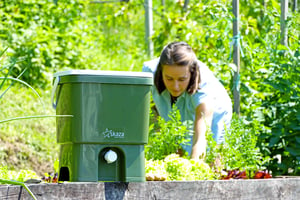 High-quality compost base and bokashi liquid
During the fermentation process in the Bokashi Organko composter, side products are being generated. You will get a high-quality compost base, suitable for gardening and farming. Also, you will get bokashi liquid that can be used as an excellent fertilizer for plants or a drain cleaner. Self-sufficiency at its finest, right?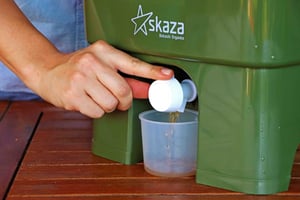 Dispose of all organic waste
Almost all organic waste can be put into Bokashi Organko 1. We recommend cutting larger pieces into smaller ones to make the fermentation process more effective.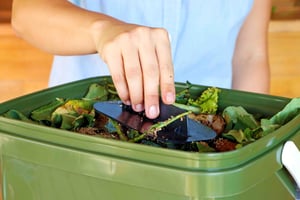 Effective bran with microorganisms
Bokashi bran consists of bran meal, molasses (sugar, water), and useful microorganisms. The presence of natural microorganisms in the bokashi bran triggers the fermentation process and prevents decay. The food in the bokashi composter does not rot but ferments instead, so there is no rotten smell.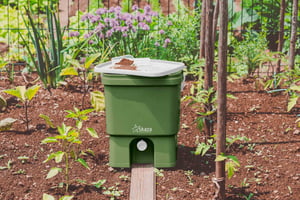 Made with love. Made from recycled plastics.
Discarded plastics were recycled and got a new purpose in this Bokashi Organko 1 composter.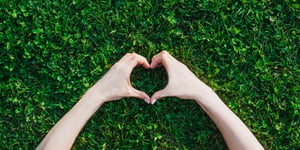 Bokashi Shop
Start collecting and processing organic waste responsibly with Bokashi Organko 1.
Click the button and we'll take you straight to our shop.