Kitchen waste bin
Organko Daily, 3.3 L
Your perfect bin for responsible and sustainable organic waste collection. A sustainable solution for those who want to live a more circular and environmentally friendly life. Organko Daily is made from post-consumer recycled plastics (recycled polypropylene).
Colors:


Why choose Organko Daily?
no bags
one-hand emptying
dishwasher safe up to 55°C
large opening on the top
movable lid for easier cleaning
awarded Red Dot Design Award 2023
Packaging
- 1x Organko Daily
- 1x user manual
Technical specifications
- Volume: 3,3 L
- Dimensions: 24 x 20,5 x 17 cm
- Weight: 300 g



Solution without bags
Use the Organko Daily bin without plastic bags, as this protects the planet and helps you save extra. Emptying the dishes is simple, and washing the bin is easy peasy, thanks to the smooth interior. Organko Daily is also dishwasher safe.
Tip to use
Empty the container every 1-2 days, as this will prevent unpleasant odors and flies. After a few days, the organic waste starts to rot, so it is important that you ensure regular emptying and washing of the bin.
Easy cleaning - dishwasher safe
Forget all the dirt when cleaning the bin in which you collect organic waste. Due to its smooth inner surface and rounded edges, you can clean the product with a paper towel and some water, but there is nothing wrong with washing it in the dishwasher for more thorough results.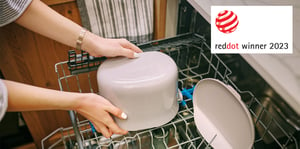 Made from post-consumer recycled plastics
Organko Daily is not just a bin. It is made from post-consumer plastics. In other words, this is recycled plastic made of discarded products collected in dedicated containers for packaging or plastic.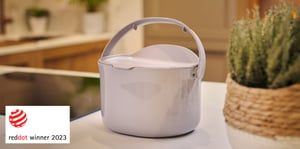 Simple one-hand emptying
Organko Daily, with its option of emptying the bin with just one hand, welcomes you to a new era of organic waste management. The entire process won't take any longer than the time it will take you to read the following sentence: You grab, open, turn, empty, close.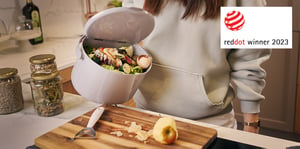 From food waste to new resource
Organko Daily can be an organic waste bin in which you collect food waste and empty it once a day into Bokashi Organko composters. You will turn organic waste into a new resource. The fermentation process in the composters provides you with a high-quality compost base, organic drain cleaner and natural fertilizer for your plants.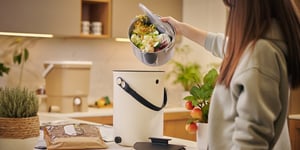 Bokashi Shop
Start collecting organic waste responsibly with Organko Daily.
Click the button and we'll take you straight to our shop.